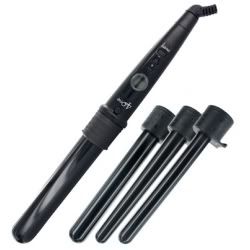 I love curling my hair, but my mom's curling irons from like 1980-something have the dried up hair spray residue all over all of them... I have used my straightener to curl my hair before, but then my curls go inward, and I want them outward.
FRUSTRATING!!!!
But, then I found out about this amazingly awesome curling iron.
So, I'm big on YouTube beauty gurus. I watched one where guru
QueenBeeuty
showed us a way she's been curling her hair lately (I'd post the link, but she deleted some videos because her account got hacked or something).
This is what she used: The
Cortex Professional 4-in-One Ceramic Clipless Curling Iron.
It's available on BeautyChoice.com for $98.95 + shipping, but I got mine on eBay for $59.99 with shipping included
(and it was brand new!)
. It comes with 4 different sized heads for different size curls. The different head sizes are 1 1/2 inches, 1 1/4 inches, 3/4 inch, and 1/2 inch. The curling iron also comes with an instruction book with styling tips, a lifetime warranty, and a heat glove!
Pros:
The box it comes in has holders for all four heads and the handle, so storage is extremely easy. It has a digital screen that shows you when it's on and off, and how hot it is. You can see it heat up on the screen, which I think is really cool :). It also gets to a whopping 410° F. It heats up very quickly. Mine got to about 380° in about 5 to 7 minutes. The curling iron is also 100% ceramic, which is the best kind of material you can use when it comes to hair straighteners and curling irons.
Cons:
The heads are a little difficult to put on and take off. Also, even though on the box it says "Heats up to 410° Farenheit," the degrees on the digital screen are in Celcius, in which it heats up to 200° C. I just hate inconsistency. Another thing is the heat glove. It works great, but it's too big for my hand :(. I have little hands anyways, but it still stinks for me! Ha ha.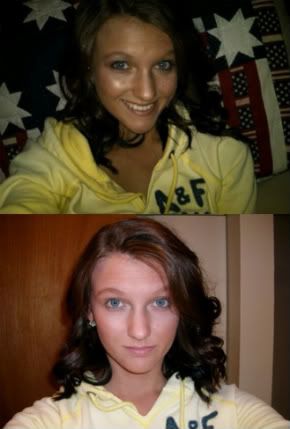 Usage:
It was very, very easy to use. However,
if you are not careful, you

WILL

burn yourself!!!
I burned myself 4 times: once on my head, once on my palm, and twice on the back of my thumb. None of the burns were too severe, but I got a pretty little blister on the back of my thumb.
The curls lasted a while. The pictures on the left were taken yesterday around 6:45 or 7 pm. It's 11am now, and a lot of them are still in tact, just a little softer. Last night I had a really bad migraine and fell asleep with a wet wash cloth and it got all over my hair... So, yeah. :(.
With this bottom picture you can see the black I put in my hair :)! My hair is a little frizzy because I didn't use any heat protectant or smoothing serum once I was done. (Bad, Sam! Bad, bad, Sam!)
Overall:
I love this curling iron! And with the lifetime warranty, I have a good product that will last :).
I give this a 9.5 out of 10!
If the degrees were consistent and the heating glove fit me it would be a 10.
Be sure you go on YouTube and look up some tutorials using this product. You can do a lot of different styles!