Okay, if there is anything that anybody should know about me, it's that I totally LOVE Too Faced Cosmetics. They're not too ridiculously priced, and the quality is amazing. I also love the packaging!
They had a huge special a few weeks before Christmas that included 3 eye shadow palettes, 2 mascaras, an eyeliner, an eye shadow primer, and a tote, all for $99! It's the Eye Want It All Collection, and honey, they're giving it to you.
(Too Faced Cosmetics did
not
ask me to do this. This is unpaid and unsponsored! I just love talking about the products I've been using and this happens to be one I wanted to write about.)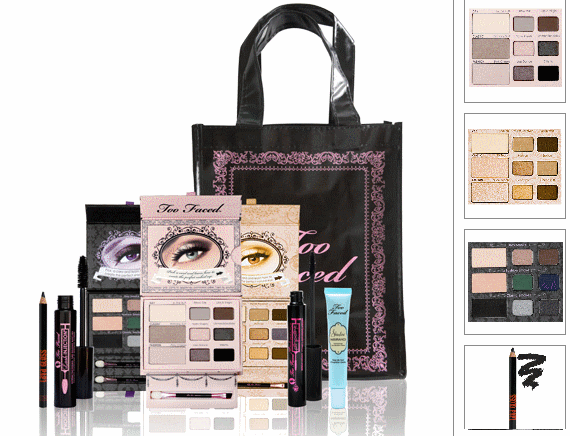 See the reviews after the jump!
The Eye Want It All Collection
is currently out of stock (I think there was only 100 sets available on TooFaced.com), but hopefully they bring it back. Here is my review on every product in this amazing collection!
Shadow Insurance Eye Shadow Primer:
This is the only primer I've ever used for my eyes, and it works wonderfully. I love that it comes in a tube rather than in the kind of container that Urban Decay's Primer Potion comes in, that way you can literally squeeze all of the product out. You can really see a drastic difference in bright eyeshadows on your lids while wearing the primer compared to wearing them without it. The primer always makes my shadow last all day without any creasing or reapplication necessary.
This most definitely gets a 10 out of 10!
Naked Eye Shadow Collection:
(Shadow shades are in the upper, right corner) I was skeptical about how the Naked and Natural collections would differ, but they both give you completely different looks. The Naked Eye Collection is designed to make you "look like you rolled out of bed flawless." All of the shadows are completely matte besides 2 or 3 of them that have a very, very soft shimmer to them. I love using the Like a Virgin shade on my brows with the angled brush that comes in the little pull-out drawer (with a sponge applicator which comes with each of the shadow collections). Each collection also comes with 3 different cards that show you how to achieve the Day, Classic, and Fashion looks.
Overall, the Naked collection gets an 8.5 out of 10!
Natural Eye Shadow Collection
: (Shadow shades are on the right, 2nd from the top) This is probably my favorite collection out of the three. I really love browns because I have blue eyes, and I also love a natural look. On Christmas Day, I wore the Fashion style and I got so many compliments from my family. The Day look is very simple and light - definitely good for everyday looks and in the workplace because all three shadows are matte. The Classic and Fashion looks are very shimmery, some have a lot of glitter too. I love this collection because it ranges so much for all types of looks
. I give the Natural collection a 9.5 out of 10!
Smoky Eye Shadow Collection:
(Shadow shades are on the right, 2nd from the bottom) A lot of people are always trying to achieve a smoky eye but never really know how. This palette isn't really my favorite, and a big part of that is because the design of it is different from the other two. The Naked and Natural palettes have names for each of the shadows, the Smoky Eye doesn't. You have to look at the cards to find the names of the colors, and sometimes, you still aren't sure which ones are which. Also, in the other two collections, the order of the shadows go Day, Classic, Fashion; in the Smoky Eye collection, it foes Day, Fashion, Classic. I'm the kind of person that pays attention to detail and who likes things to be consistent. It just kind of bothers me. Anyways, It also comes with two sponge applicator/angled brush in the pull-out drawer, where the other two collections only come with one. Now, I've only done one look from the Smoky collection, and that is the Classic smoke (the one of the bottom). The Day Smoke can be done using the Natural or Naked palette, and honestly, the Fashion Smoke just doesn't look good to me (it's dark navy blue, forest green, and a dark tan). However, the Classic Smoke is
perfect
for anybody who wants to have a normal smoky eye for any occasion.
I give the Smoky Eye Collection a 5.5 out of 10. :(
Lava Gloss Eye Liner:
(Pictured in the bottom right) This is officially my favorite eyeliner! I haven't lined my eyes with gel liner, liquid liner, or my other eye pencil (Maybelline Define-a-Line) since I started using this. It's extremely soft and creamy, but not to the point where your liner starts completely falling apart, smudging when you don't want it to, and where you stop getting the control you want with thickness. It came in black (which is what I always get) and I have never loved an eyeliner so much. I love using it for smoky eyes and tightlining my eyes too. It's amazing, period.
Definitely a 10 out of 10!!
Lash Injection Mascara:
(The mascara on the left by the eyeliner) A lot of people can't stop talking and raving about Benefit's Bad Gal Lash because of how huge the brush is. I have never tried Bad Gal Lash, but I can tell you right now this is definitely comparable. The brush is HUGE (about as big as my eye) and it does wonders for my lashes. It totally seperates all of them and makes them super long. I really don't like buying mascara from department stores since the ingredients are exactly the same as what's in drugstore mascaras. But I can promise you that once this mascara is gone, another one will be bought.
I give this mascara a 9.5 out of 10!
Lash Injection Pinpoint Mascara:
(The mascara on the right by the primer) This mascara is for layering on top of the Lash Injection mascara to make your lashes look extra long. I love this stuff because it makes me look like I have false lashes on. My lashes look so thick and full and long, and it's such a great feeling for me when my lashes look like that (and I didn't have to glue any on for them to look so fabulous!). I also love using this for my lower lashes because it still gives them definition, and almost kind of lines the bottom lashes because of how small and precise the brush is.
I give this mascara an 8 out of 10!
The Too Faced Tote:
This isn't the kind of tote you get from the grocery store, it's a leathery-kind of material, and it's very durable. You can fit a lot of stuff in it actually, even though it's small.
I'd give it a 7 out of 10!
Phew! *wipes forehead*
Well, that's about it for the Eye Want It All Collection. You can get all of these products individually at TooFaced.com. If you follow Too Faced on Twitter or Like their page on Facebook, you can get TONS of offers like Free Shipping and discounts on your orders. So, go do that! lol.
Hope you all enjoyed, please leave your feedback!